Come join our Merry Menage Giveaway Hop
hosted by Day Dreaming, My Secret Romance and The Book Tart!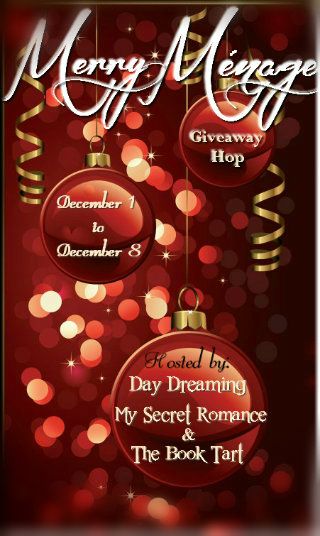 Need a new bedtime story to light your fire? Looking for something with a little heat to warm you during the cold holiday season? Feel like decking the halls naughty style? Well then, come join us as we stand under the mistletoe for this wickedly sexy giveaway hop! The more the merrier! Have no worries, we'll help you trim your trees, deck yours halls, and spark that fire!
~*~
For my stop on the blog hop, I have a recipe for you, some reminiscing about my childhood holidays in France, and plenty of merry menages to share in my giveaway!
I usually try to keep the frenchisms out of my books, but I make it no secret that I was born and raised in France. I often get asked what I miss most about France, and after almost a dozen years spent here in Ohio, I have to say,
the weather
the food.
Since I first came here, some of the foods I missed at first have crossed the ocean - although you'll never convince me that they didn't change Nutella
somehow
when they brought it over. It just tastes different, and I've eaten enough jars to know this for a fact... *grins*
One food I have yet to find over here is 'pommes dauphines'. They are fluffy balls of mashed potatoes that were a holidays staples for my family. My mother would buy them frozen, and they were available all year long, but for some reason we only ever ate them either for our Christmas or New Year meal, usually with some kind of fancy meat and elaborate gravy.
I'm not much of a meat and gravy person, but I did miss my pommes dauphines, and my second winter here I pulled up my sleeves and found a recipe to make my own. There was some trial and error, and not all experiments were worth eating, but when my family visited for the holidays a few years ago I made pommes dauphines for them...and they couldn't believe I had made them from scratch! They were better than the frozen ones, too ;)
Here's my recipe, which I'll use again this year...
Ingredients for 8 servings:
- one pound of potatoes (I like to go with golden yukon) cooked in simmering water then mashed/pureed and salted to taste
- a stick of butter (1/4 pound)
- 3/4 pound all purpose flour
- 1 1/4 cups milk
- 3 eggs
Preparing Pommes Dauphines:
- in a large sauce pan, bring the butter and milk to a boil
- add the flour all at once
- mix well
- take off the heat. Add eggs one at a time, mixing well after each egg
- put back onto medium heat. Keep heating, mixing every so often, until the dough is pulling away from the sides of the sauce pan
- mix the dough and mashed potatoes thoroughly
- let rest for an hour
- form balls in the palms of your hand. Size-wise, put your thumb and index finger together, that's usually a good guide. A Pomme Dauphine should take two bites to eat.
- time to fry! Drop into frying oil (gently! Careful with those splatters!). They will come up to the surface and be nicely golden when they're ready.
- set on paper towel to drain oil
- let it cool down enough so you don't burn your tongue, and
enjoy
!
They reheat nicely in the oven, or you can also freeze them for later.
~*~
And now, to satisfy a very different kind of hunger...
My Merry Menage Giveaway, with 10 winners (international) !
The old saying claims that three is a crowd, but to me three just means three times more fun! I have three trios to share with you...
Marc, Blake and Kate, from the
Blurred Trilogy
... In a future world under siege by demons, vampire Marc and his Childe Blake join Kate's group of fighters, and the three of them try to find their place with each other in between fights against demons, betrayals and kidnappings. (3 books)
Brett, Lisa and Leo, from the
On The Edge series
... It starts with vampire Lisa and her human lover Brett, who open a dancing club together, then two turns to three when an old lover of Lisa's, Leo, shows up at the club and she invites him to stay for a night... then more. (5 books... so far!)
Alan, Jeremy and Tyler, from
His Sire's New Pet
... Vampire Jeremy angers his Sire and Dom and earns himself a punishment... but his human lover Tyler asks to be punished in his place. (1 book...so far!)
First place: 3 ebooks from the above series (winner's choice)
Second and third places: 1 ebook from the above series (winners' choices)
4th to 10th: swag packs!
Who's playing with me? :D
a Rafflecopter giveaway
(Winners will be contacted on December 9th and will have a week to claim their prize.)
Keep hopping!